Impact Pulveriser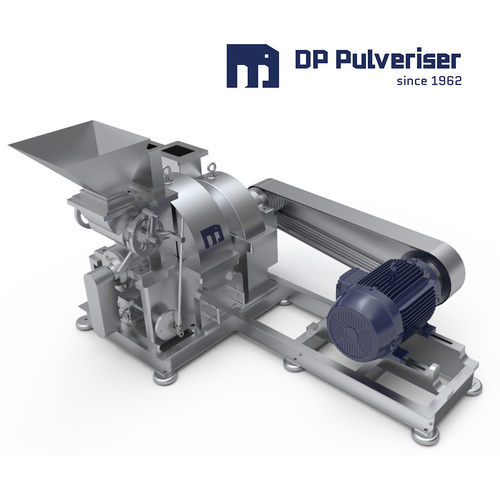 Impact Pulveriser
Product Description
The DP Impact Pulveriser is an all-in-one medium speedscreen-less hammer mill that combines feeding, grinding and air classifyinginto a single compact unit. It is suited to grind down to medium fineness butthe adjustable nature of the whizzer classifier allows for ranges right from 60mesh down to 300 mesh for many different materials. It has been designed tooperate well in harsh environments and at continuous duty. It has a tough builtand its versatile feature makes it suitable for grinding a plethora ofdifferent materials. The entire mill is driven by a single motor. The number ofhammers mounted on the rotor can be changed depending on the type of material anddesired output. The flexibility of the adjustable gap between the whizzerclassifier and the whizzer cone enables precise control of the required outputparticle size. This allows the same mill to deliver coarse granulation or finegrinding as required with a simple whizzer classifier gap adjustment. Thepresence of an impeller on the common shaft eliminates the need for an additionalexternal fan for pneumatic conveying of the material out of the grindingchamber.

Features
· Screen-less classification
· Adjustable particle size control of powders
· Available in abrasion resistant design formaterials up to 6-7 Mohs hardness
· Cool and gentle grinding due to high airflows
· Suitable for combined grinding and drying
Specifications of Impact Pulveriser
Type of Classification
Screen less (Whizzer Type)
Mill Size
D.P.-15
D.P.-20
D.P.-25
D.P.-32
D.P.-42
Motor H.P.
7.5-10
15-20
25-30
50-60
100
Max. Feed Size
10mm
15mm
20mm
25mm
30mm
Mill RPM
3000
2200
2000
1800
1600
Fineness Range
60 - 325 Mesh B.S.S.
Contact Us
501, K.L. Accolade, 5th floor, Near R.K. hospital, Road No. 6, Santacruz (East), Mumbai, Maharashtra, 400055, India
Phone :+918037268376