Industrial Micro Pulveriser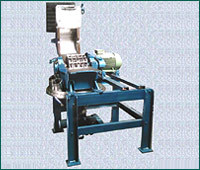 Industrial Micro Pulveriser
Product Description
We are one of the leading manufacturers and suppliers of an outstanding range of Micro Pulveriser. These pulverizers are widely used for grinding and mixing applications in various cement and chemical industries. Made from premium quality materials, these pulverisers are thoroughly examined by our expert team of engineers to ensure performance. We offer our Micro Pulveriser at very feasible prices to our customers.
Features:
Corrosion resistant
Rugged design
Long lasting service
Further Details:

Operating Principle

The D.P. Micro Pulverizers consists of a rotor assembly fitted with hammers and operates generally at high speeds. A cover fitted with a liner, a retaining screen at the point of mill discharge and a feed screw mechanism whereby the unground material is uniformly fed to the grinding chamber.

The grinding action in the D.P. Micro Pulverisers is the impact between rapid moving hammers and particles themselves. The energy of the moving hammers dissipates itself into the particles by virtue of their inertia thus causing size reduction.
Applications
The D. P. Micro Pulverizers, can be used for a wide range of application e.g. Activated Carbon, Animal Feeds, Carbon Black, Chalk, Cocoa, Starch Dyes, Fine Chemicals, Gram Flour, Kaolin, Pigments, Sugar, etc.

Outstanding Features
Efficiency and Compactness.
Quick and Easy Cleaning.
Labour Saving.
Long Service Life.
Guaranteed Performance.
Lowest Cost.
Type of Classification
Screen Type
Feeding
Screw Type
Model Type
Mill Motor
Feed Motor
Mill RPM
D. P. Laboratory Micro
1 H.P.
NIL
9600
D.P. Baby Micro
1.5 H.P.
0.5 H.P.
9600
D.P. Micro No. 1
5 H.P.
0.75 H.P.
8400
D.P. Micro No. 2
10 - 15 H.P.
0.75 H.P.
6900
D.P. Micro No. 3
20 - 30 H.P.
-
4600
D.P. Micro No. 4
50 - 60 H.P.
-
3450
Contact Us
501, K.L. Accolade, 5th floor, Near R.K. hospital, Road No. 6, Santacruz (East), Mumbai, Maharashtra, 400055, India
Phone :+918037268376