Industrial Pneumatic Conveying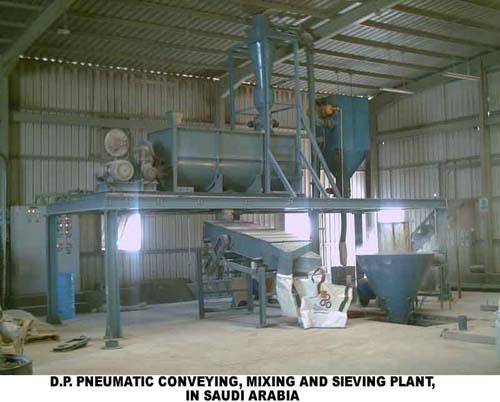 Industrial Pneumatic Conveying
Product Description
D. P. Pneumatic Conveying System (Dilute Phase Conveying) Pneumatic Conveying has decisive advantages in conveying dusty products over mechanical conveying, low space requirements and low maintenance. Also it is flexible in construction, can be easily automated, provides dustless conveying without loss of material and is thus also safe for products hazardous to health. A conveyable product is transported through a pipe by using a certain quality of gas [air or nitrogen]. The product particles are freely moving with the high gas velocity and a low product to air ratio. The different types of Pneumatic Conveyors are

A) Vacuum Conveying System: D. P. Vacuum Conveying System works on negative pressure for conveying the material from one or number of pickup points to one discharge point. This system is best suitable for providing dust free conditions around inlet.

B) Pressure Conveying System: D. P. Pressure Conveying System conveys bulk material by air under pressure. This system offers advantages of conveying material from one place to one or number discharge points.

C) Combined Vacuum-Pressure Conveying Systems: D. P. Combined Vacuum- Pressure Conveying System conveys the material from various pick-up points to various discharge points, it is also used where vacuum pick-up and pressure delivery is required.



Contact Us
501, K.L. Accolade, 5th floor, Near R.K. hospital, Road No. 6, Santacruz (East), Mumbai, Maharashtra, 400055, India
Phone :+918037268376