Inline Emulsifier Mixer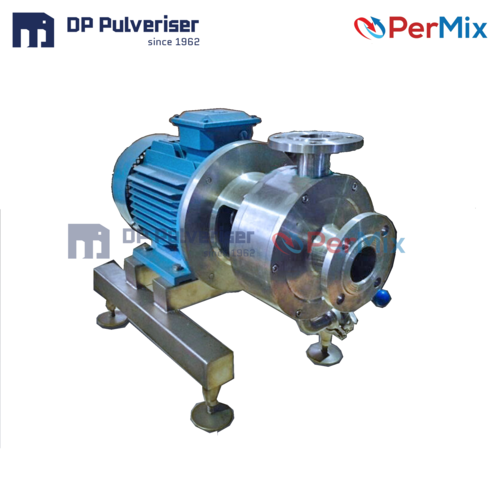 Inline Emulsifier Mixer
Product Description
An inline mixer is a high shear mixer for inline or continuous operation. In the Inline process, the mixeris installed outside the tank. This makes it easy to be built into an existing production line with normalinlet/outlet connections.
In the case to deal with liquid with a low viscosity, the inline mixer can pump the liquid without an additional pump. That is why it is also called High Shear Pump. The mixer can be used to deal with the product in a single pass or with several circulations to make theproduct better.
Different from a Batch High Shear Mixer, the mixing occurs in the mixing chamber, thus energy is introduced onto materials in the most efficient way. This also cuts the process times by up to 90% compared with conventional blending methods.
Stator/Rotor System:
PerMix also designs two types of Stator & Rotor systems: V and K. Both have several sub-types.These designs of stator & rotor systems offers more selections for our customers to choose the most suitable one to deal with their specific liquids and solids.
Applications:
Inline Emulsifier Mixers are widely used by a variety of industries in different stages of the processing.They are highly efficient to save a lot of energy and time compared with traditional mixing methods.
Food & Beverage: Reconstituted milk, Salad dressing, Mayonnaise, Ice cream, Cheese, Yogurt, Fruit juice
Pharmaceutics & Biology: Drug synthesis, Vaccine, Fat emulsion, Injectable suspension, Veterinary medicine, Cell extraction
Cosmetics & Daily Care: Detergent, Body gel, Shampoo, Cream, Lotion, Tooth paste, Soap
Chemicals & Oil Industry: Synthetic rubber, Resin, Bitumen, Silicon oil, Dye, Pigment, Coating, Ink, Nano material
Trade Information
Shanghai

Cash in Advance (CID)
Africa, Middle East, Asia
Contact Us
501, K.L. Accolade, 5th floor, Near R.K. hospital, Road No. 6, Santacruz (East), Mumbai, Maharashtra, 400055, India
Phone :+918037268376