Ribbon Mixer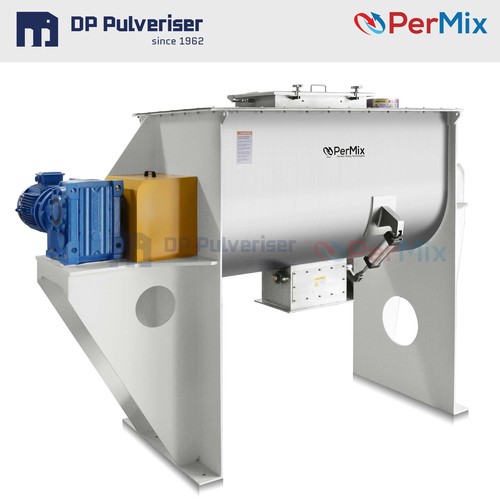 Ribbon Mixer
Product Description
The PerMix Ribbon Blender is well suited for mixing of dry powders, granules & viscous pastes homogeneosuly.A maximum mixing ratio of 1:500,000 can be achieved, which means you can get the desired proportion of constituents in as small as 1 gram in a batch of 500 kg.
The DP Permix Ribbon Blender uses a specially designed mixing agitator with dual ribbons inside a U-shaped working trough.
Basic Working Principle-
The Ribbon Blender consists of an electrical motor, a gear box and a shaft with double ribbons placed in a U-shaped vessel.External & internal ribbons are designed to push the powder material from the centre to the two ends of the vessel and vice versa. The powder material is also lifted up along the ribbon edges but then drop due to gravity. This three-dimensional action facilitates the mixing of the powder in short time with low power consumption.
Customization-
Construction Material
Drive System
Heating/ Cooling Jacket
Spray Nozzle
Continuous Operation
Customized Feeding & Discharging
Vaccuum Drying & Deaerating
Avaliable Sizes
100 L
300 L
500 L
1000 L
2000 L
3000 L
4000 L
5000 L
6000 L
8000 L
10000 L
12000 L
15000 L
20000 L
25000 L
30000 L.
Trade Information
Shanghai

Cash in Advance (CID)
Africa, Middle East, Asia
Contact Us
501, K.L. Accolade, 5th floor, Near R.K. hospital, Road No. 6, Santacruz (East), Mumbai, Maharashtra, 400055, India
Phone :+918037268376