V Shape Mixer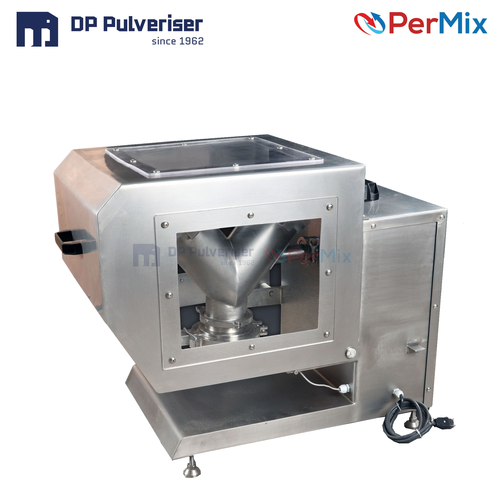 V Shape Mixer
Product Description
V Shaped Mixer
The DP PerMix V shaped Mixer also known as Y Shaped mixer, follows a gentle high-flowing mixing process for solids/solids up to a proportion of 1:100,000. An option of using an intensifier bar to intensify the mixture and solids/liquids in powder or granulate form with different unique weights is also available. This mixer is one of the tumble mixers, the DP PerMix Double Cone Mixer being the other one. Famous for the intimate blending of dry powders, granules, and crystals that flow freely. It is distinguished by a very basic and an easy to clean design.
Applications
Pharmaceuticals- Supplements, Active ingredients, Silica, Sugar, Tablet coating
Chemicals- Graphite, Alumina, Inorganic powder, Dye stuff, Silica, Adhesives, Agricultural supplements, Plastic powders, Colored cement mixes, Glass ingredients, Insulation materials
Food & Beverages- Sugar, Aspartame, Fragrance, Spice, Dextrin, Chocolate mixes
Cosmetics & Daily Care- Baby powder, Tooth paste, Cosmetic creams, Detergents, Cleaning compounds
Operating Principle
The DP PerMix PVM series V shaped Mixer has a "V" chamber made up by two cylinders. Powders and granules are fed into the V chamber either manually or by a vacuum conveyor.
A gear motor drives V chamber to roll in 360 degrees. This multi-dimensional motion makes the powders and granules inside tumbling up and down and colliding to each other all the time, and achieve uniform mixing in short time.
Features
Simplicity of Design
Low initial cost
Ease of maintenance and simple operation
Size available from 2 L lab model to 6000 L Industrial scale unit
Customization
Internal choppers
Vacuum/Drying execution
Special spray unit
Special safety fence
Mobile trolley
Trade Information
Shanghai

Cash in Advance (CID)
Africa, Middle East, Asia
Contact Us
501, K.L. Accolade, 5th floor, Near R.K. hospital, Road No. 6, Santacruz (East), Mumbai, Maharashtra, 400055, India
Phone :+918037268376